Search this site.

Quinoa Salad

Like all of the best camping recipes, Quinoa Salad is easy to make, filling and nutritious. It also looks and tastes great!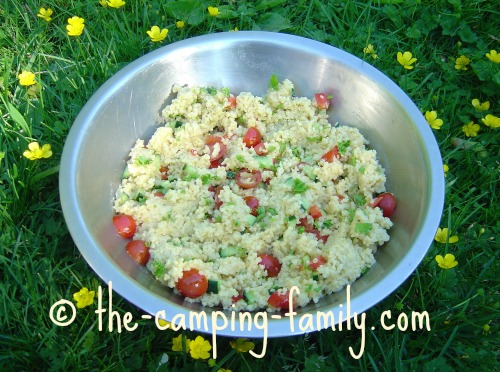 This makes a nice camping lunch, or a side salad for your camping supper.
It's perfect food for a hot day when you don't want to hover over the campfire or the Coleman stove.
---

At home


To do

measure out and package 1 1/2 cups/375 mL quinoa


To pack


Food
In food box

| | | | | |
| --- | --- | --- | --- | --- |
| | vegetable broth (at least 3 cups/750 mL) | | These individual pouches of broth are easy to pack! | |
In the cooler

1 container grape tomatoes
1 red or yellow bell pepper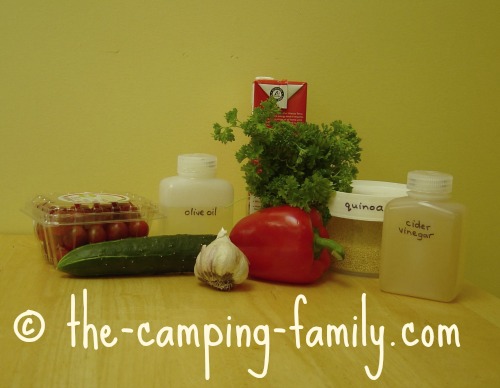 Pots and utensils

| | | | | |
| --- | --- | --- | --- | --- |
| | 1 cup/250 mL measuring cup | | These sturdy bowls with lids travel well, and are perfect for storing leftovers. | |

Making quinoa salad at camp

Place the quinoa in the strainer, rinse it well under running water, and drain.
Measure 3 cups/750 mL broth into the saucepan and bring it to a boil. 
Add the quinoa, stir, and reduce heat to low.
Cover and simmer for about 20 minutes or until the liquid has been absorbed.
Fluff the quinoa with a fork and transfer it to the large bowl. Let it cool slightly while you prepare the vegetables.
Cut each of the grape tomatoes in half.
Seed and chop the bell pepper.
Chop the cucumber. (If it's a large one, you may want to use just half.)
Chop some parsley. You'll need a small handful.
In a mug, mix 1/4 cup/60 mL olive oil, 3 Tbsp/45 mL cider vinegar, and 1 clove garlic, minced.
Add the vegetables to the quinoa, tossing gently as you add each.
Drizzle the oil and vinegar dressing over the salad. Toss to combine.
Season to taste with salt, if desired.
---

Tips
If you are going to eat Quinoa Salad in the first couple of days of your camping trip, do all the work at home and take the completed salad with you in your cooler. Be sure to pack it in a container with a tightly fitting lid!

---
Now that you know how to make Quinoa Salad, check out the rest of my easy camping food ideas!
Getting ready for a camping trip? Visit The Camping Family home page! I'll help you get organized!