Search this site.

Easy Lentil Recipe

Lentil Skillet Supper

This easy lentil recipe is a great economical camping meal. It uses simple ingredients, cooks in just one skillet and tastes great!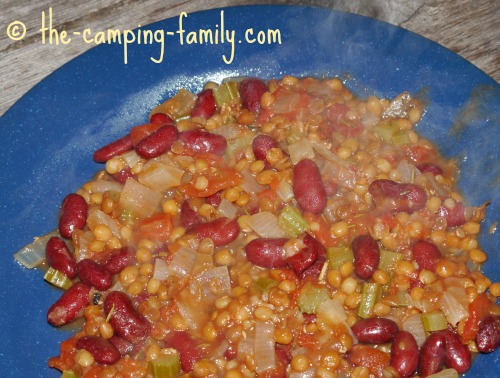 This dish uses only nutritious ingredients. It's filling and tasty.
When I'm camping, I like the convenience of canned beans. If you make this at home, though, you might want to cook the lentils and kidney beans from scratch. Here's how to cook lentils and here's how to cook beans.

---

At home

What to pack

Food
In the food box
vegetable oil

1 can (19 oz/540 mL) kidney beans
1 can (19 oz/540 mL) lentils
1 can (19 oz.540 mL) diced tomatoes
dried rosemary
pepper

In the cooler

2 stalks celery
1 large onion
Cheddar cheese

Pots and utensils

skillet
can opener

cutting board
sharp knife
large spoon

grater
measuring cups and spoons (or just estimate)
---

At camp

Chop the onion and celery.
Grate 2 cups of Cheddar cheese.

Heat the oil in the skillet over medium heat.
Add the chopped onion and celery to the skillet.
Cook for about 5 minutes, until the onion is soft.
Open the cans and drain them all.

Add the

drained

beans, lentils, and tomatoes to the skillet.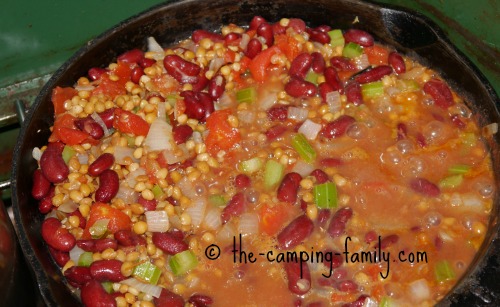 Add about 2 tsp/10 mL rosemary and about 1/4 tsp/1 mL pepper to the skillet. Stir to mix.

Heat until it simmers gently.
Spoon the supper into individual bowls. Quickly - while it's still hot - sprinkle the cheese over top of each serving.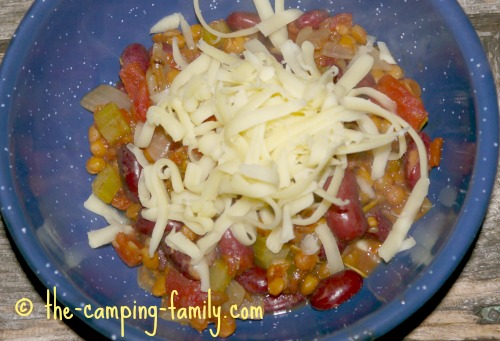 The cheese will melt into the hot supper. Mmmmm!
---

Tips for making this easy lentil recipe

I like to do as much prep work at home as I can. Chop the onion and celery and grate the cheese at home. Put the chopped vegetables and the grated cheese in ziplock bags and store them in your cooler. Your dinner prep at camp will be that much easier!
If you didn't bring rosemary, go ahead and make this anyway. You won't miss the extra flavor. After all, everything tastes great when you are camping!
If you make this meal at home, use an oven-proof skillet. Preheat your broiler before you begin cooking. Once the lentil mixture starts simmering, sprinkle the cheese over the mixture in the skillet. Place the skillet under the broiler for a few minutes until the cheese melts and bubbles. 
---
If you enjoy this easy lentil recipe, be sure to check out the rest of my camping food ideas!
Before you start packing for your next camping trip, please visit The Camping Family home page. You'll find lots of useful tips!